How company logo shirts made Single Grain 500K
Image source: sujanpatel.com[/caption]
Sujan Patel started off his digital marketing company, Single Grain, with 25 t-shirts. He used these navy blue company logo shirts with a simple logo of a corn cob and the words "Single Grain" on the front, not as a brilliant marketing scheme, but as a way to fill up his closet. The shirts he had left, he gave out to friends on Facebook, then more requests for these free shirts came rolling in.   Patel turned his short supply of shirts into an email list, got some more shirts to give away for free, and spread Single Grain's name around Facebook and the local community. Soon, the campaign was such a success that he ordered more shirts in different colors and started to give more shirts out -- even donating them to Salvation army.  
The secret, Patel says, to great marketing in this way was to invest in a high quality shirt that would be comfortable to wear in everyday settings, attractive enough to not feel like a walking billboard, and changing up the logo style and/or color theme every 6 - 12 months or so to keep things fresh.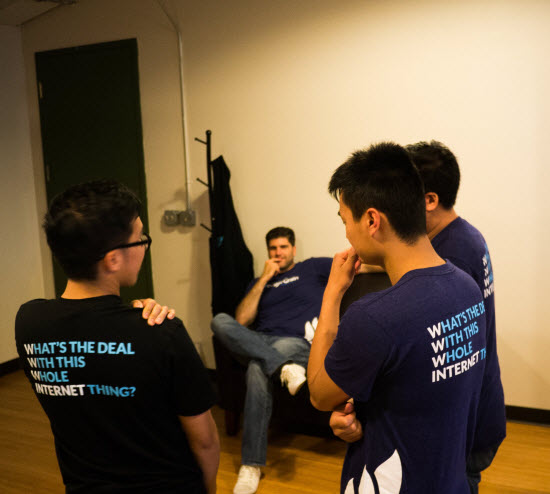 Image source: sujanpatel.com[/caption]  
In the end, what it resulted in was people getting curious and opening up the discussion about what Single Grain was, which lead to landing clients in the most unexpected situations. Patel notes that he even landed clients while getting his hair cut. Others wore Single Grain's shirts to work, which generated conversation within larger companies, such as Apple, HP, Google and others.  
Patel ended up making $500K and still growing from the simple marketing scheme of creating great shirts to wear everywhere. His employees use them as uniforms, others wear them everywhere they go from work to the gym. Patel even wears his to a massage parlor where he landed a client. Patel notes that clients have said that they trusted the brand more because they saw a lot of people wearing t-shirts with the name around.