Why Premier Air, LLC Chose to Invest in logo shirts for its employees
When Chris Thompson decided to grow his Birmingham, Alabama heating and air business from a one-truck operation to multiple employees and vehicles, he had a lot of decisions to make. Money to invest in the business was tight, since most of it was needed to go toward new employees, trucks and equipment. But one decision he found easy was investing in company logo shirts for all Premier Air workers.  
Customers Feel Safer Opening the Door to Uniformed Workers
Often, Chris and his workers go to homes in the middle of the day when nobody is home or when women, children or the elderly are home alone. The company logo shirts let neighbors know that professionals are working there, and there is no need for alarm. It also puts customers' minds at ease when opening the door to a stranger. Without these logo shirts, these workers wouldn't look like professionals at all. By investing in logo shirts that match the logo customers and the public see on his vehicles, advertisements and other communications, people know they are dealing with a legitimate professional.  
Competition in the Heating & Air Business is Tight
Most major U.S. markets are flooded with heating and air conditioning technicians, and Premier Air's position in the Birmingham area is no different. Since this business is competing with area businesses that have been around for much longer, Chris is challenged to find a way to brand himself in the eyes of the public.   Company logo shirts are one of the ways Chris uses to solidify his brand identity in this crowded market. People recognize this logo even when they forget the name of his business. The logo on the shirt helps customers learn and remember Premier Air among all of the other advertisements and classified listings for other HVAC specialists. When they've seen his company shirts and van, they automatically recognize that logo in the phone book or on his website when shopping for services.  
Workers Feel Like Company Representatives Wearing a Company Logo Shirt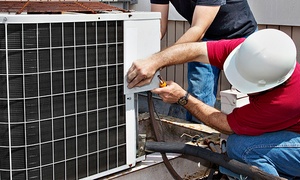 Another challenge Premier Air faced when hiring those first workers was to help the employees identify with the company and strive to be good representatives of the brand name Chris worked so hard to build. By supplying these shirts, Premier Air makes new technicians feel more a part of the company and encourages them to represent it well. Workers just feel differently in a uniform than when wearing street clothes.  
The Heating & Air Business is a Mixed Bag
In the world of HVAC (heating, ventilation and air conditioning), there are three types of companies. There are the big guys that everyone knows, the small to mid-size companies, which typically thrive on customer service, and then the fly-by-night companies that take customers' money and disappear. The key to success is to look as trustworthy the big guys while separating your company from the ones people know they can't trust. Having logo shirts for all Premier Air employees sets Chris' company apart, because it is obvious his workers are with a company that takes their business seriously.