BMW: More than just a luxury Car Company
Image source: bmwusa.com
Beautiful form, speed, superior performance may describe an Olympian or a luxury car. German car manufacturer BMW is hoping it does both. BMW is a major sponsor of the 2014 Winter Olympics being held in Sochi, Russia. The company is betting on a gold medal worthy performance. The company designed the two-man bobsled for the US women's and men's team and a marketing campaign that puts the BMW brand out front and center on the bobsled and the minds of Olympic watchers.  
BMW Drives Home a Positive Message
The Olympics is a good will game where the world's best athletes compete in a spirit of sportsmanship and an unquenchable desire to be the best. Companies affiliated with the Olympics often break away from routine advertisement and sales tactics and instead sends a message that people are just as important as profits. When viewers see the BMW logo the company is hoping that consumers will see more than a luxury car company. They hope people will see a company who supports American athletes as they pursue the ultimate goal in athletic achievement.  
Custom Apparel Delivers a Solid Performance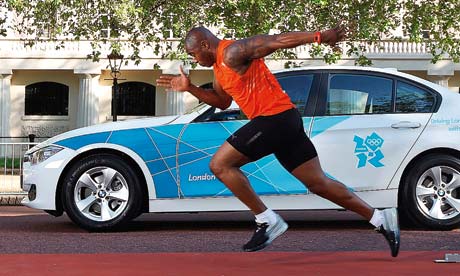 Image source: theguardian.com
Even for large car manufactures, having visible custom apparel with the company logo can be a desired boost that makes a difference. BMW is no stranger to Olympic sponsorship. Custom BMW Olympic apparel was visible during the 2012 Summer Olympics held in London. According to figures quoted in a recent report, after BMW's image appeared at the 2012 Olympics, the company saw a 54% increase in consumers visiting their website.  
Designing More than an Image
But BMW may be taking an even greater risk this time. The company logo will not only appear on embroidered polo shirts, hats and other gear of participants, the logo will feature prominently on the athletes while competing. The BMW logo will propel down the bobsled track at speeds exceeding 70 miles per hour. It has been over seventy years since an American two-man bobsled team has won gold at a winter Olympic game. To increase the chance of a victory BMW designed six new bobsleds for the game that were designed to be faster, lighter and more precise than previous models. However, transferring the company's automotive design to a bobsled is only half the picture. The company is hoping it will also transfer that same image of engineering excellence and commitment to consumers off and on the icy track.  
Contact us for more information on custom clothing for your company.