Part 2: Giving to Clients & Prospects
Image source: newmediaandmarketing.com
Last week, we went over the benefits of giving employees Company Logo Clothing. This week we want to dive into the stats how Businesses can increase sales and leads by giving your Company Logo Clothing to Customers and Prospects alike.   Lead Apparel has engaged a third party, independent research company, to examine the challenges and determine the best way to gain and maintain prominence in the consumers' minds.  
The Benefits of giving logo Clothing to Employees
The average US company loses 20-40% of it's customers each year. Why? - 9% due to preference for a competitor - 14% due to dissatisfaction with the product or service - 68% due to poor treatment   This is an alarming statistic. Business spend a large amount of time and resources to acquire customers. However, the service and treatment of an existing customer receives after that first order diminishes quickly in most cases. Businesses spend 7 times more money trying to attract new Customers than trying to keep existing ones. It's estimated that U.S. Businesses lose over $8.3 billion dollars each year due to poor Customer Service!  
Provide excellent Customer Service and you'll reap the rewards.
The probability of completing a sale with a new prospect is between 1%-20% depending on the industry. However, when marketing to existing customers, your conversion rate can spike to 50-75%. The higher conversion rate will only reveal itself if the Company has provided excellent Customer Service. We can define Customer Service as prompt attention to Customers' needs (requests, complaints, inquiries), easily accessible by phone, email or chat, exclusive promotions, fair pricing and providing a consistent product and/or service that is superior or, at least very competitive to your competition. For new business, it's not always realistic to leverage your current Customer base so customer acquisition is a priority. But no matter how small a Customer list, the start-up must dedicate some resources to focus on existing Customers.
The Benefits of giving logo Clothing to Clients
How does giving your Company's Logoed Clothing to Customers help increase Sales and Leads? - 96% of end buyers agree that logoed items, by definition, are given out to establish good relationships and high retention rates with clients and employees - Almost two thirds (62%) do business with the giving Company in the following 12 months. - 94% of those who receive unique wearables, like a shirt or jacket, remember the company who gave it to them and over 50% of these recipients had a favorable impression of the Company.  
You said I will also accelerate my Lead generation?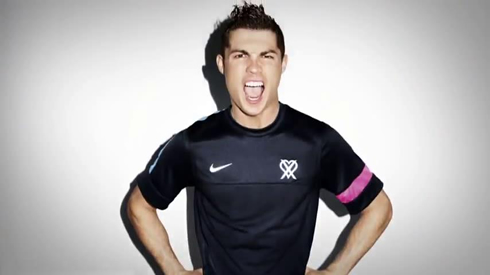 Image source: ronaldo.7.net
Word-of-Mouth marketing still accounts for up to 50% of buying decisions. Compare this to a recent survey showing only 6% of consumers trust a Company's Ad content. Unfortunately, one customer that has a bad experience has almost 10 times the power to persuade others about your own Company than you do! When you give Company Logo Clothing to Clients and Employees, you're receiving positive brand association while they wear these items and come in contact with the public, some of these people will be qualified Leads. Whether its an introduction of your Company for the first time or re-affirming your Company and that others do business with you, it's all powerful, positive brand association.
Creating positive brand association is arguably the most powerful marketing in terms of conversion. There are many examples of powerful brand association products. When you see a stranger using an Apple laptop at the Coffee shop. If that so called stranger is also wearing similar clothes, around the same age and obviously at the same place as you, well, you might be consciously or sub-consciously confirming that Apple's laptop is something you should have as well. The concept is the same as giving items away to Influential people like celebrities or athletes. They are not advertising directly to you on a commercialized platform but wearing/using an item in their personal life which appears as a natural endorsement. The momentum of brand association is important for lead generation. Those companies who can establish this in their business have a competitive advantage.
Let us know if you'd like to get started with a Company Logo Clothing Order
Lead Apparel offers many options with your company logo; printed tee shirts, embroidered polos, hats, jackets, sweatshirts and accessories. Visit
leadapparel.com
to view products and pricing.